Let's say you moved into a new home, or you have rented an establishment for your business and you want to beautify it in a nice way. Greenery and other natural items greatly improve the warmth and welcoming nature of an area, and can really make a difference in the overall look of a home or storefront.
There is a reason why landscaping is so important. If you have ever been to a park and felt so calmed down just walking around or seated on a bench, this is likely the work of a landscape professional. With the right methods of gardening and putting touches of green, this can be extremely beneficial for calming the mind.
One of these products and services that many homeowners and businesses in Canada use is the sodding procedure. Sods are grass patches grown on dedicated farms, and are harvested once fully matured and are installed on other people's lawns. While synthetic grass and turf offer an easy and aesthetically pleasing look and feel to a lawn without the hassles of maintenance and care, many people would still rather have real grass. Grass seeds may take forever to grow and require a lot of work to sprout properly, so sod installation is probably the next best option. 
There are optimal times to conduct sodding, and here are different times of the year you can decide to have your lawn or facade sodded:
Springtime
Springtime is a great time to have sod installations done because of this season being the start of plant growth after a cold and heavy winter. People notice that their plants grow extremely fast, lawns get taller and with more weeds, which require a lot of lawn maintenance and work. Knowing this, it is sure that people will want their lawns sodded ASAP after winter to be able to enjoy it for a while before the next cold front. Book your sodding procedure in advance so that you have a sure slot after the snow melts and can get your lawn looking beautiful right away. Check out our blog "How to Carry Out Spring Lawn Care" to dive deeper into the do's and don'ts during Springtime!
Summertime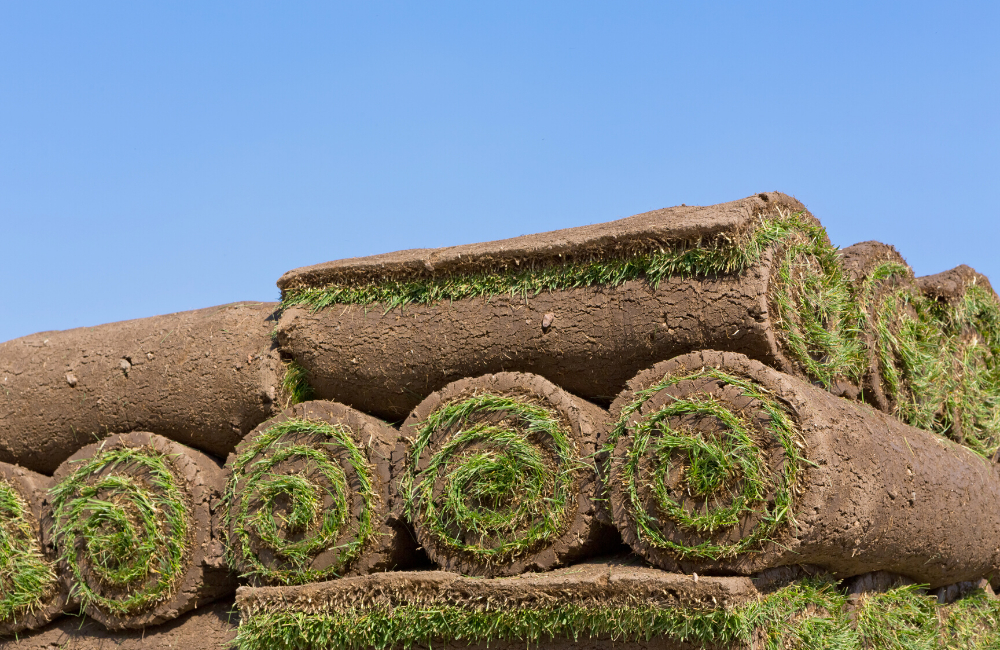 While summers are often quite hot and it may not seem like an optimal time to have your lawn sodded, summer is a great season to have sod installed. The best part of summers is that it entails a controlled environment for growth without too much rain or cold weather fluctuations that can affect grass growth. Spring often has cold days that occur, which makes it difficult to maintain the growth of the sod, as well as difficulties in controlling moisture that makes it grow mushrooms. The best part is that because summer is closer to winter already, prices are better negotiated, and it will be easier to find a contractor to install the product.
Fall
Fall is extremely close to winter, which is usually the time people retract from doing gardening and maintaining their lawns and gardens, it is still possible to re-sod these for the next year. This prolongs your time outdoors with a beautiful green garden and has the best prices from contractors giving you a step ahead of everyone by the time spring comes. 
Conclusion
Sodding is your quick solution to a nice, green garden and front lawn that can change the way your home looks. With nice, real grass that is easily installed and maintained, your backyard barbecues and your get-togethers at home will definitely be a treat for you and your guests. Don't settle for synthetic grass this time around and try out a freshly sodded lawn for a greater outdoors experience. 

For the best sod installation in Halifax, Canada, Halifax Landscaping Pros has the best contractors that specialize in a wide range of outdoor services. From landscape design to tree cutting and installation of lawns, we have it all covered for you!
Sodding Company, & Landscaping Services in Halifax, NS
We offer a full range of landscaping services from Lawn care to landscape design to the entire Halifax Metro area and HRM.
You May All Be Interested In the Following: