Your landscape is a valuable part of your property and it is worthwhile spending some time budgeting for the required maintenance. In this article, will will go over the most common factors that go into the costs of lawn care. The cost for lawn care depends on many factors that we face for each particular property. The biggest though is the size of the lawn that we are looking to properly maintain.
Other Key Factors for Lawn Care Services Costs
Size of the Yard that needs attention
The Services required for the project
The level of expertise of the Landscaping company
The location of the project
Is the Landscaper insured or bonded
The Equipment or supplies needed
Is it a residential project or a larger commercial job
How Much Does Lawn Care Services Cost?

Lawn Care Services costs about $55/hr, with average prices ranging from $30/HR to $80/HR in the Canada for 2020 according to HomeAdvisor.
How often Should I Mow my Lawn?
This can sometimes depends on the time of year. Some clients prefer to have their lawn cut weekly during the spring
and most like to try and save some money during the Summer and try to keep it at once every two weeks.
According to CustomLawn, Mowing actually helps make your grass grow thicker because the tip of each blade contains hormones that suppress horizontal growth. When you cut the lawn, you remove these tips allowing the grass to spread and grow thicker near the roots.
How Much Does Sod Installation Cost?

The cost to install natural grass sod is quite a bit less than artificial grass. It costs between  to $1 to $2 a square foot, or $2,000 to $4,000 for 2,000 square feet, If you decide to go with a pro for installation. If you are interested in learning more, click Turf Installations costs and read our blog post.
How Much Does Aerating Your Lawn Cost?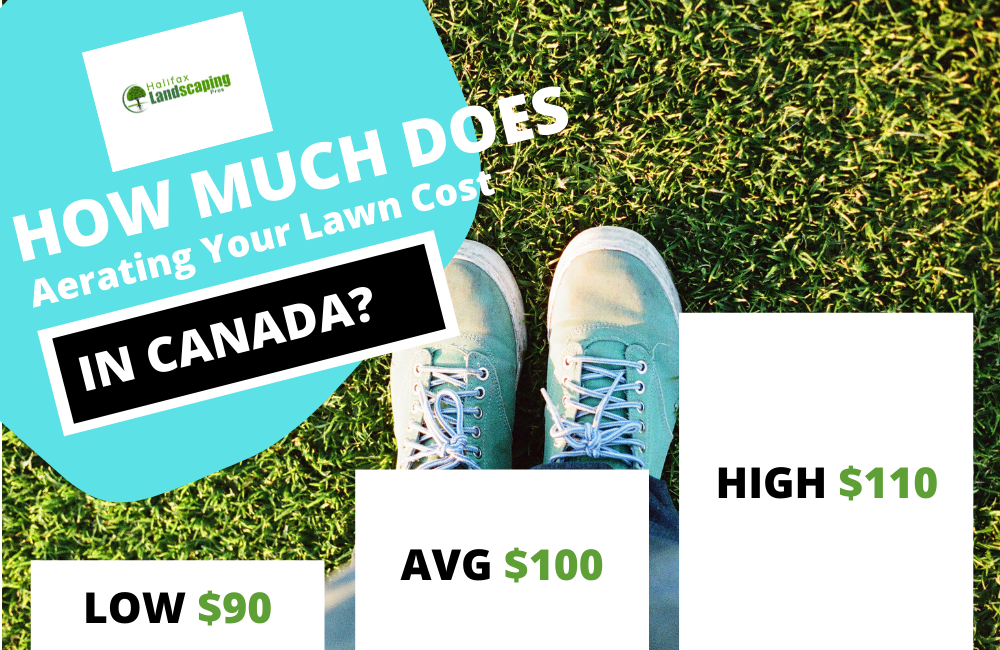 The cost to aerate your lawn, like most services is going to vary depending on how large your lawn is that needs to be aerated.
Hiring the right Landscaping Company near you to aerate your lawn will varies according to the relationship you have with the landscaper as well as the services being applied, such as fertilizer application. 
Most pros charge for aeration by the square footage of your yard. 
According to
Angieslist
, a typical aeration job averages 5,000 square feet and costs between $90 and $110.
The Benefits of Lawn Aeration
Relief of compressed soil
Stimulates proper root growth in your soil
Create pockets to deliver food and water directly to roots
When the best time to Aerate A Lawn in Canada?
It is best to aerate in late summer, then topdress and/or overseed according to Canada.ca
What is the Cost Of Fertilizing Your Lawn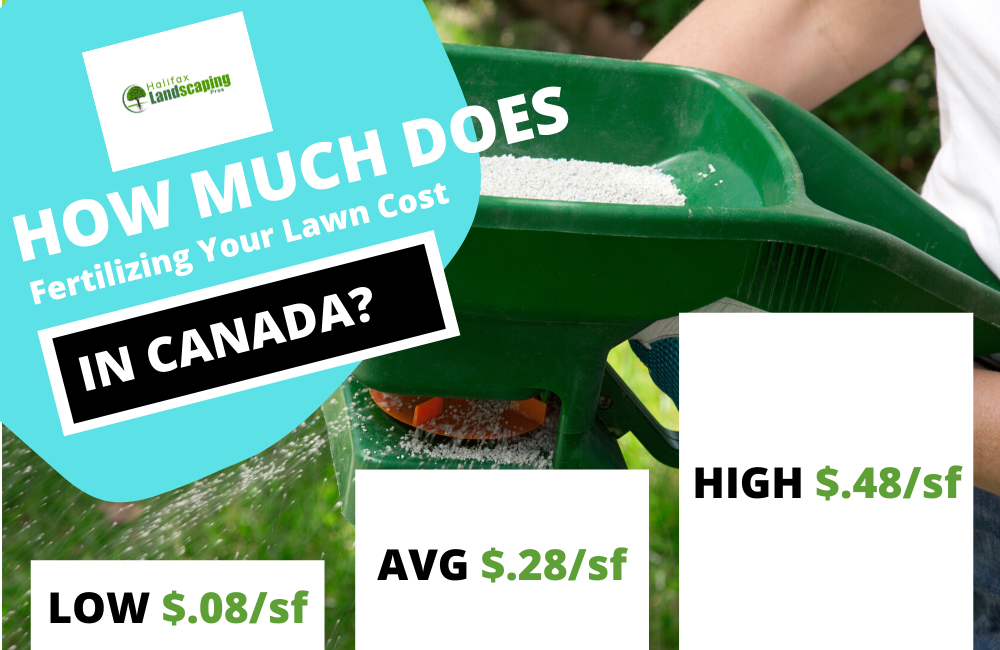 Your lawn needs the proper nutrients to look its best and The best way to enhance the appearance and health of your lawn is to fertilize it. Fertilizers contain the necessary minerals and nutrients that your grass needs to grow to its full potential. Adding fertilizer to your lawn aeration can increase final costs but also save money over having the jobs performed separately.
The cost of fertilizing your lawn will run you around $.28/sf, with average prices ranging from $.08/sf to $.48/sf in the Canada for 2020 according to Homeguide.
What is the Cost of Weeding Your Lawn
The average cost per hour of weeding ranges between $12 and $40. While many people enjoy gardening as a hobby, others would prefer to hire an expert to handle regular weeding around plants and flowers. Professionals who undertake this job would need to come back on a regular basis, or they can use weed killer as a more permanent solution.
DIY lawn care vs. Professional Lawn Care Services
DIY lawn maintenance is a relatively cheap household expense. Aside from the initial cost to purchase a lawn mower, the only other expenses include buying gas and fine tuning the equipment, which costs around $20 if you do it yourself, or $50 to $75 if you take it to a repair shop.
Now, what I like to factor in which for many is the largest cost, that
is the cost of your own time. What do you value an hour of your own time at? If your lawn takes you 2-3 hours to complete each week, that is 8-12 hours each month you could be dedicating to lawn maintenance.
Where to find Lawn Care Services Near Me?
You can find local Landscaper designers on Google search by searching "Lawn Care Services Near Me", and reading reviews on their business listings. Make sure and call around for general price estimates as the first place you call doesn't always offer the best solution for you.
Why use Halifax Landscaping Pros?
If you are looking for a reliable Halifax Lawn Care Company that will cater to your dreams and landscape design inspirations, look no further than our team. With decades of experience under our belt, we will ensure the level and quality of our work, each and every project.
You May All Be Interested In the Following:
Landscape Design Company, & Landscaping Services in Halifax, NS
We offer a full range of landscaping services from Lawn care to tree trimming to the entire Halifax Metro area and HRM.
*Disclaimer – This is not an actual quote. Your Landscape design or other landscaping services could be different than the prices you see on this guide. Contact Halifax Landscaping Pros if you are in the Halifax area and need Landscaping services.