Winning landscaping ideas that will help launch your next dream project
Landscaping has become a trend with more and more homeowners paying attention to the exterior of their homes while keeping the interior minimalist. While everyone may have their preferences, we've decided to jump on the hype train and give you some great landscaping ideas for you to infuse into your own project.
We have 10 great landscaping ideas for you to consider. If none of these are right for you, we hope they do spark enough inspiration for you to try your own idea. So without further ado, let's go!
Abundance Without Excessiveness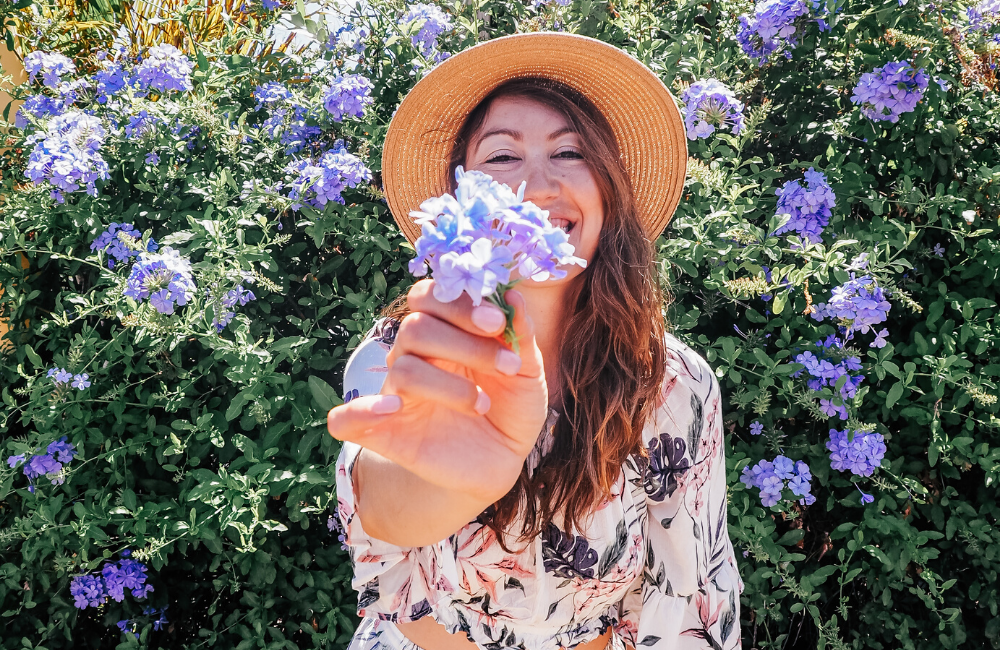 While we don't suggest that you cover your entire garden with the same flower, it does help to have an abundance. Plant large swaths of the same flower or plant and place them in blocks around your lawn. If you want a bed with two different colored flowers, then rather than jumble them up, place them side by side in large blocks.
Ensure Continuation of Themes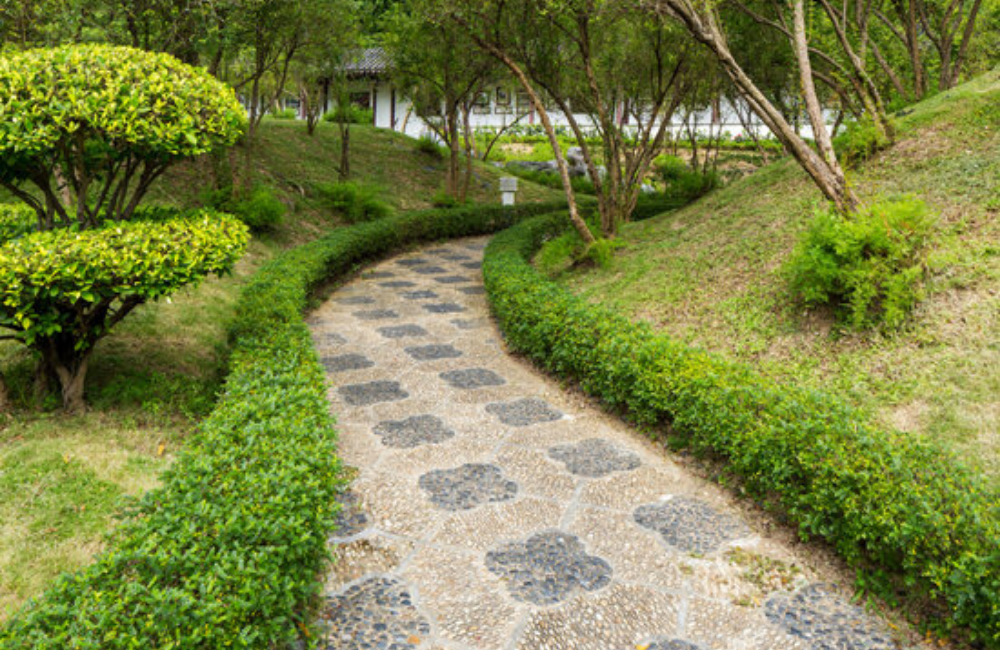 You don't need to have one set theme for your lawn or garden. You can choose to implement a few different themes and combine your landscaping ideas, but it is important that there is a continuation and flow throughout the entire landscape. If you're going to set up oriental-themed furniture, then consider plants and flowers from the same region. 
Take a similar approach with colors as well. Try to match colors of flowers, accents, fixtures, and the furniture in some way or form. It need not be a uniform color throughout the entire lawn, but some level of matching colors is appealing and comforting to the eye.
Contrast is key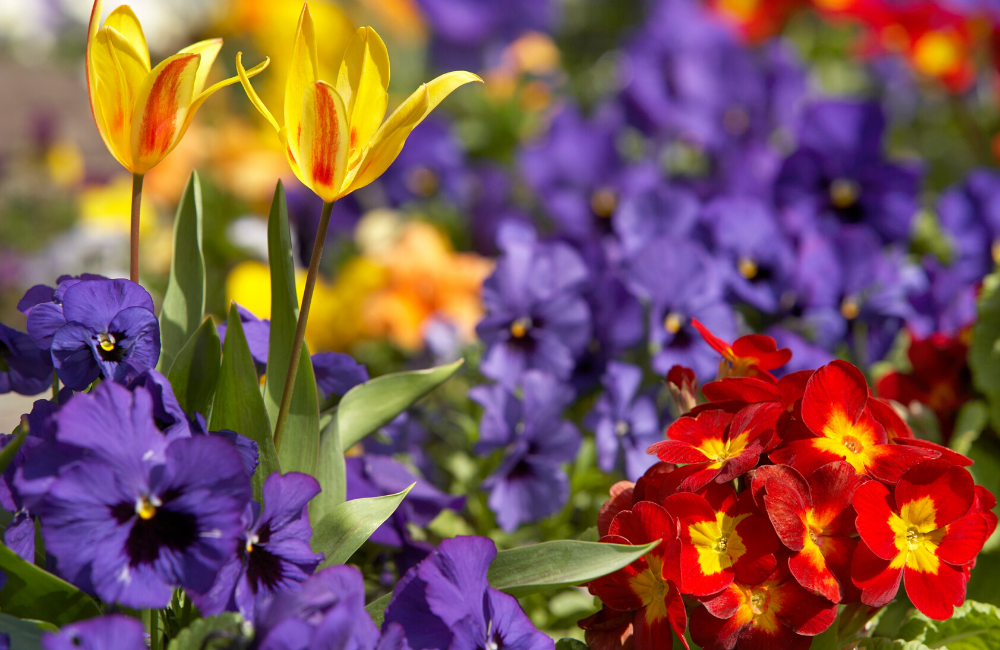 Creating contrast is an age-old principle of landscaping. However, the real secret lies in ensuring contrast while considering colors. Combine bright with rich and light with dark, alternating between your fauna and fixtures in the process. You need to ensure that your colors match though so as to maintain the visual appeal of the overall look.
Diversify your plants and flowers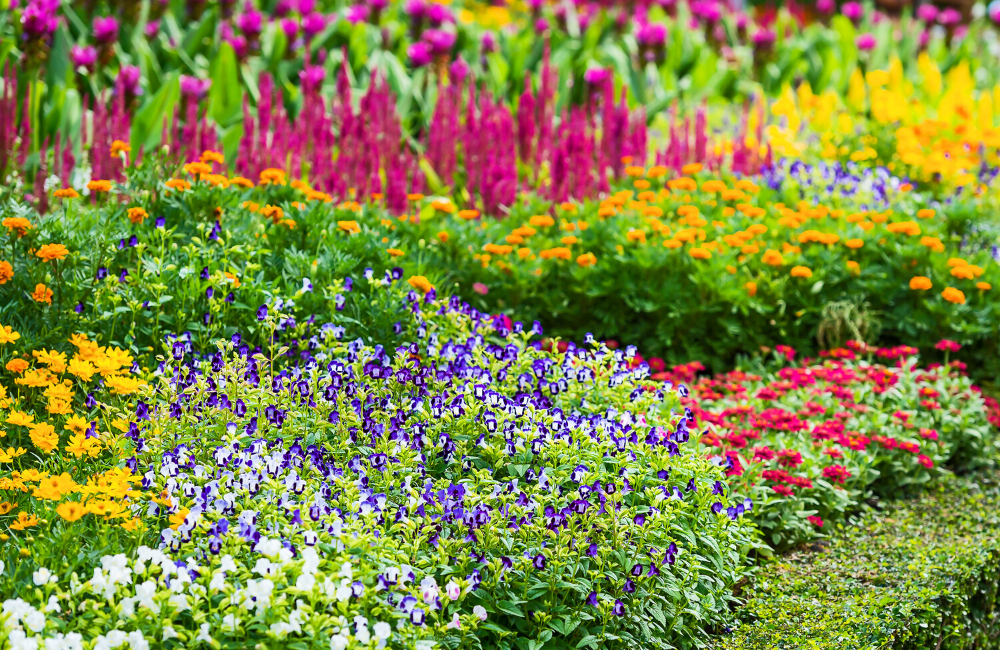 Keeping the same two plants or flowers in your entire garden will get boring really quickly. While maintaining color, contrast, and theme, you can easily look into different species of plants and flowers to keep things interesting. 
If you have a mix and match, it'll also keep lawn maintenance fun as you'll be seeing different challenges in pruning, fertilization, and other elements of care and upkeep.
Don't just keep it natural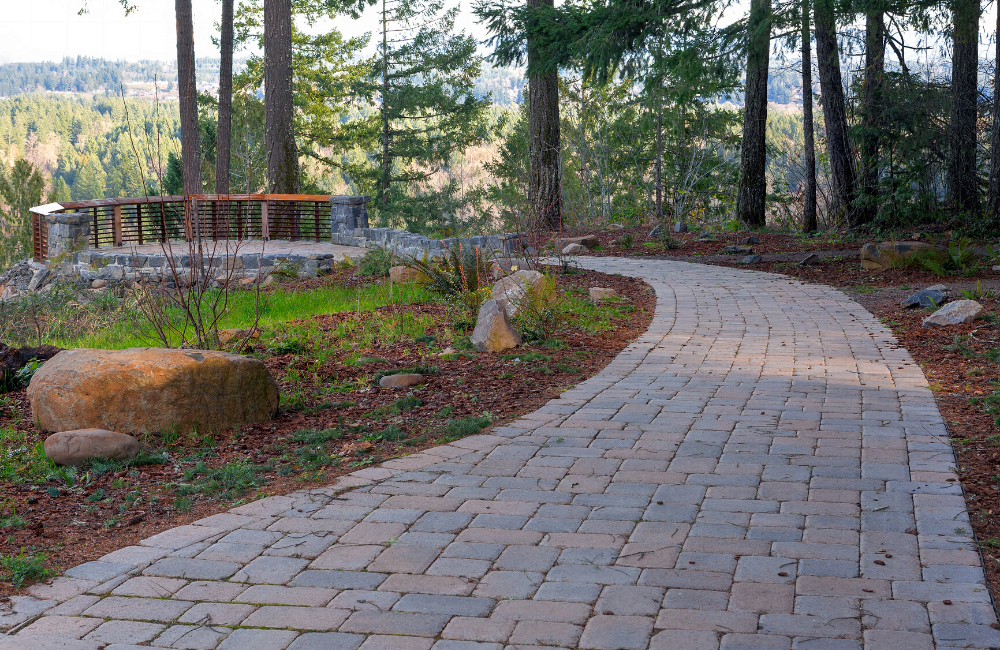 While grass, flowers, trees, and plants are fun, you'll also need to add some hardscape into the mix. "Hardscape" refers to other non-plant materials that you can also make part of your lawn. Consider adding garden gnomes and other statues or a rock garden so that everything doesn't get monotonous. There's a long list of decorative fixtures that you can add to your garden which will enhance the overall look and add credence to your chosen themes and colors.
Be a square when it comes to landscaping
Symmetry goes a long way in the overall aesthetic of a garden and you can use lines, shapes, and angles when deciding on the layout. Plant specific flowers in a block, shaped like circles, while you plant trees in a rectangular shape. Add lines of shrubs in between if you want. The objective is to add symmetry and structure to the landscape, which will only add to the overall experience of sitting in your garden and enjoying a cup of tea.
Give everything its space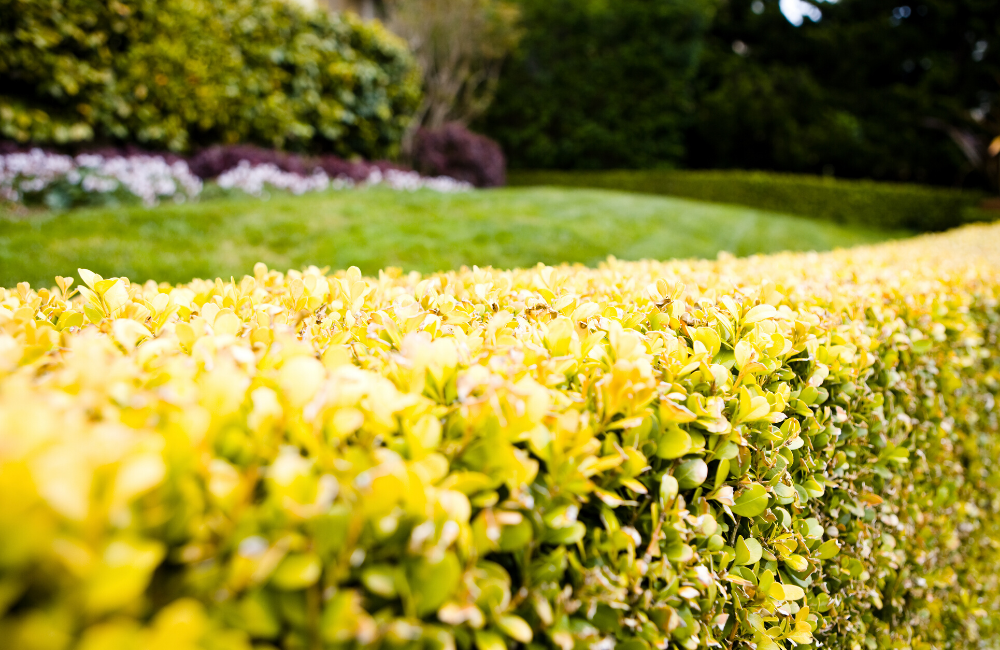 Division is important when trying to give structure to your landscape. Each space needs to be divided according to usage or motif or theme, whatever the case may be. You can use fences as dividers or keep things natural by using hedges. However, when you choose to divide spaces, remember that it is vital if you'd like a structured landscaped garden rather than just a yard with some plants.
Trees and Shrubs are good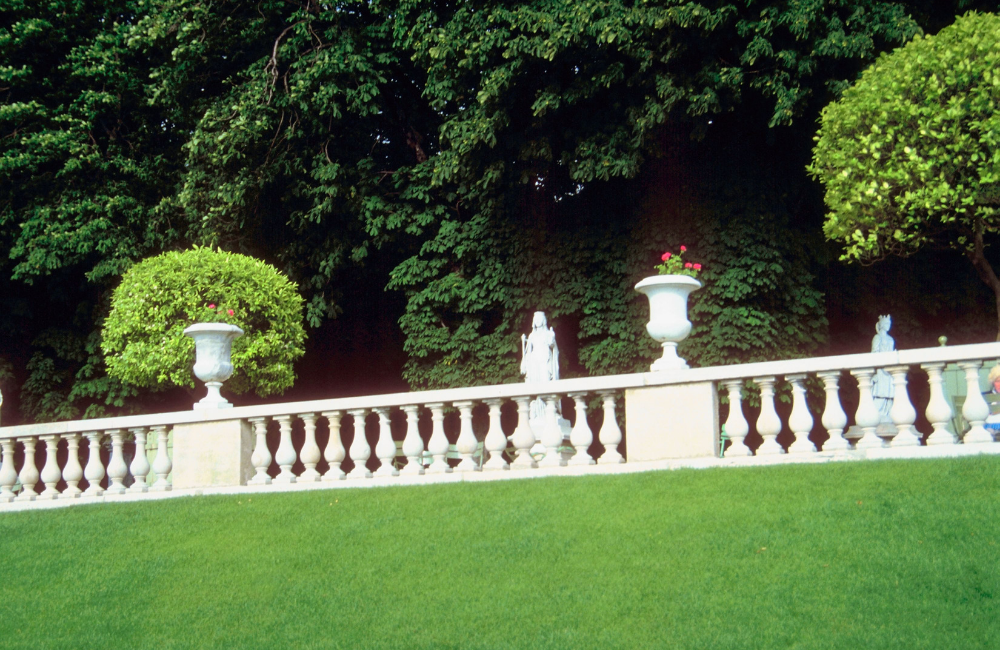 We've already mentioned shrubs when it comes to dividing spaces, but one must not underestimate their importance. Shrubs, as well as trees, give structure to a garden and "complete" everything. It's difficult to imagine a yard without a tree and. If trees are planted in a structured manner, then they can be the entire platform on which your garden is built. Consider adding trees and shrubs to the perimeter of your garden, especially the entrance points.
Islands
Many people prefer an open lawn with all the plantings on the sides and perimeter. However, having an island of flowers or shrubs can add a decent aesthetic to your lawn. Moreover, visitors would want to naturally walk around the beds to get a full view of the lawn, making them explore and adding some mystery to your landscape.  
Green is your friend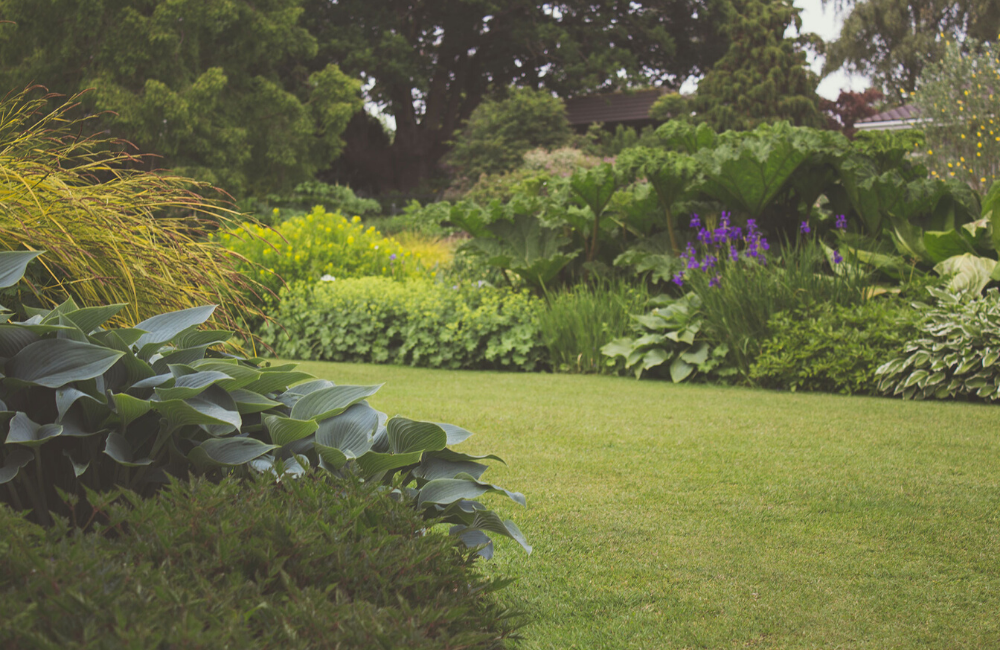 When it comes to landscaping, you can never go wrong with the greens. Green is expected to the point that you can add up to 4 different shades of green to your grass and plants, and nobody will have a problem with it really. 
People may not like green-colored food or clothing, but when it comes to grass and landscape that is exactly what they expect. Experiment with different shades from time to time so as to keep things interesting. Moreover, by adjusting the green, you won't be compromising on any of the other colors that you've incorporated into your landscape theme.
How Much Does Landscaping Cost?
Landscaping costs can vary depending on the project. We wrote this helpful blog "Landscaping costs" to further detail what you might expect to pay for a professional.
Where to find Lawn Care Services Near Me?
You can find local Landscaper designers on Google search by searching "Lawn Care Services Near Me", and reading reviews on their business listings. Make sure and call around for general price estimates as the first place you call doesn't always offer the best solution for you.
Why use Halifax Landscaping Pros?
If you are looking for a reliable Halifax Lawn Care Company that will cater to your dreams and landscape design inspirations, look no further than our team. With decades of experience under our belt, we will ensure the level and quality of our work, each and every project.
Landscape Design Company, & Landscaping Services in Halifax, NS
We offer a full range of landscaping services from Lawn care to tree trimming to the entire Halifax Metro area and HRM.
*Disclaimer – This is not an actual quote. Your Landscape design or other landscaping services could be different than the prices you see on this guide. Contact Halifax Landscaping Pros if you are in the Halifax area and need Landscaping services.
You May All Be Interested In the Following: