Homeowners with trees on their property know the value and beauty that they add to the home. The biggest question we get is what our tree trimming services cost. But, trees require maintenance and work to keep them healthy and looking great. Unsure how to prune your tree or what the benefits are to keeping the trees on your property trimmed? Then it is probably best that you look to hire a Tree Trimming Specialist. Contact your local trusted landscaper today to help determine their Tree Trimming Services Cost.
If you're looking to sell your home in the future, remember that healthy, mature trees are very desirable for prospective homeowners that are looking for a beautiful, well-maintained yard and property. Consistent pruning with the removal of small branches or limbs will not only improve the tree's overall appearance, but it will also keep the tree healthy and happy for many years. If you keep the trees in your front or backyard trimmed well, your yard will look clean and kept up well.
In this article we will break down the different the tree trimming services cost for Canada as well as the measures you should look at to ensure the health and vitality of trees on your property.
How Much Does Tree Trimming Services Cost?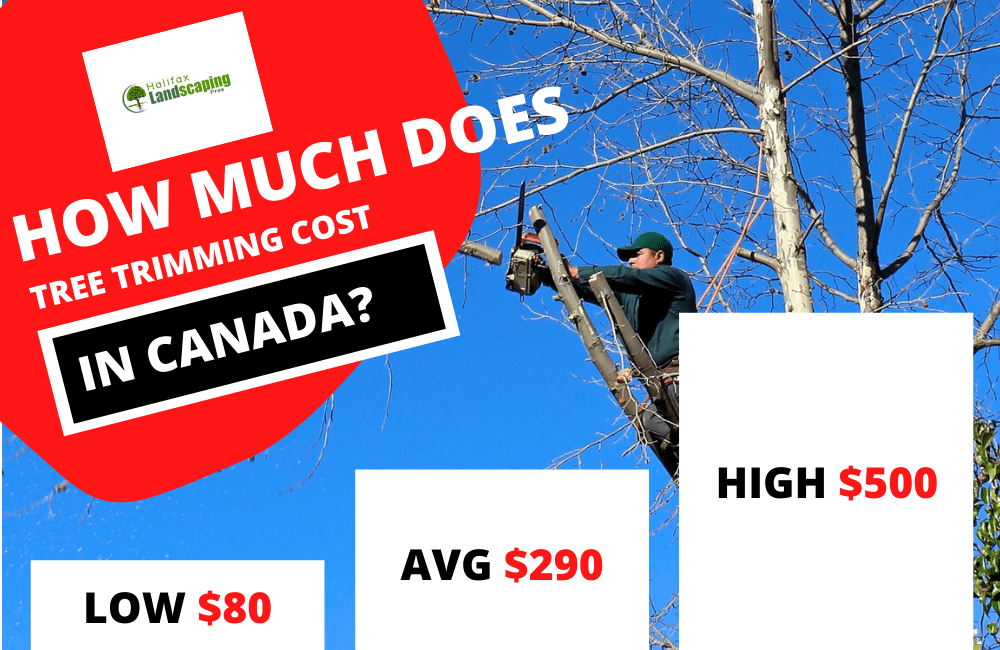 Tree Trimming in Canada, costs about $290, with average prices ranging from $80 to $500 in 2020 according to HomeGuide. This vary's based on the size of the tree, where it is located on the property and the condition of the tree.
How Is Tree Trimming and Tree Pruning Costs Calculated?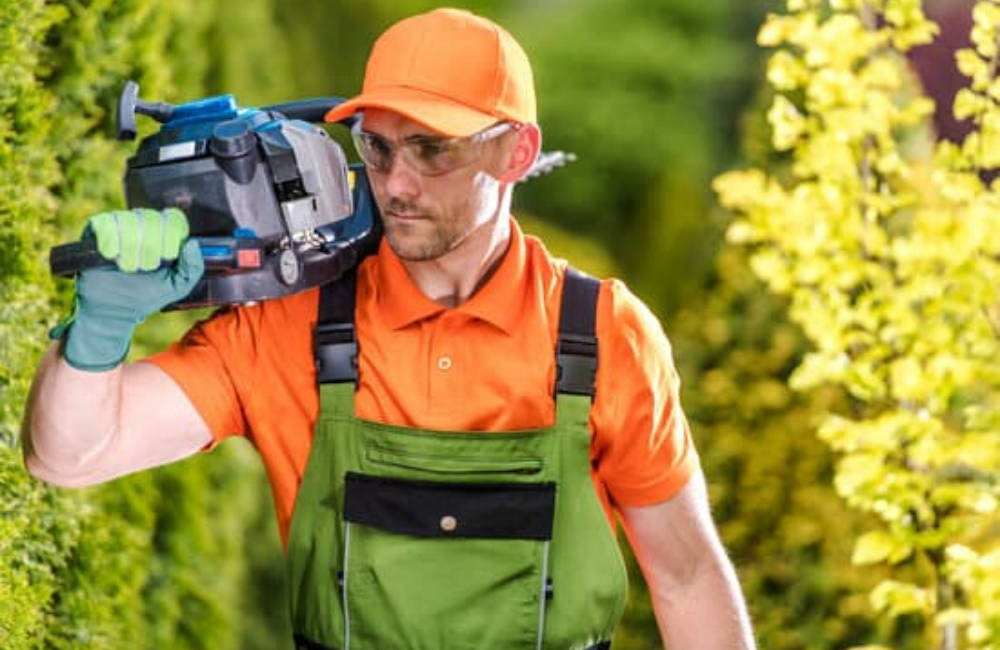 We look at six specific elements that you need to keep in mind when determining the cost of the project as it relates to your Tree care needs.
Size of the Tree – When we are looking at tree size, typically the larger the tree, the larger the quantity of branches that would need to be tended to. This would also increase the labor needed, the time needed to finish the project as well as the equipment needed.
Number of Trees – This one is pretty obvious, if we are dealing with more trees as part of the project, the cost will ultimately increase as well based on the number, the sizes and the remaining factors in this list.
Tree Health – If you have a diseased tree, or possibly a dying tree, the costs associated with this could increase due to the measures needed at the time to take care of the problems that might occur.
Location – Since the majority of tree care specialists need to utilize their own equipment and labor, the location of the trees in question can also adjust the costs. If it is harder to reach the trees, or they are near spots that could be hazardous, like power lines, it could involve more initiatives to complete the tasks.
Skill of the Specialist – If you are working with a specialist with years of experience, this can have an impact on the bottom line as well.
Do My Trees Need To Be Trimmed?
Whether you need to do it for safety reasons, for aesthetic reasons, or to preserve the health and vitality of the tree, keeping a tree properly trimmed and pruned is pivotal. Trees need to be trimmed or pruned regularly, and sometimes branches must be cut off to help ensure the health of the tree and your family's safety. There are many reasons tree trimming can be a vital part of yard maintenance. According to the Department of Agriculture (USDA), trees need to pruned first for safety, next for health and finally for aesthetics.
If branches or limbs become diseased, begin to start dying or grow too large, they risk falling and causing injuries or damaging homes, cars and other property. If you aren't sure, it is best to contact a Local Landscaping Company to assess the situation for you for your and give you an accurate Tree Trimming Services cost.
How Much Of A Tree Can You Trim?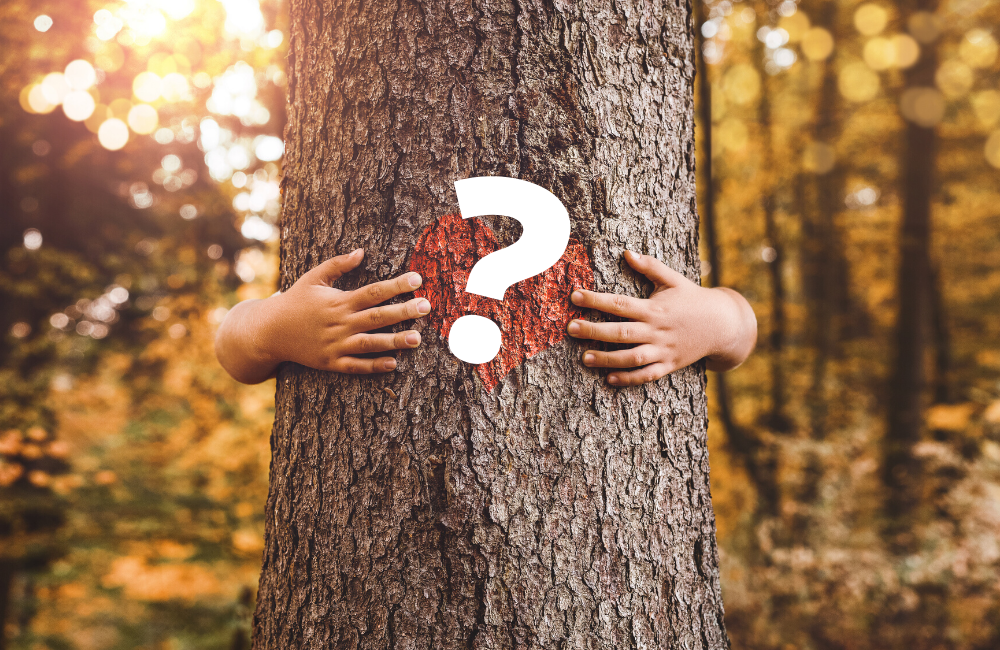 According to Wikihow, you should never trim or prune more than 25% of the Tree. You should be looking to maintain at all times, 2/3 of the tree's branches. This of course varies depending on the species of tree in question.
When Should You Not Trim Trees?
This again depends on the particular species of tree in question. According to Todayshomeowner, when we are talking about Non Blooming Trees or shrubs, a later winter prune is ideal. For Summer Blooming Trees, it is best to prune again in the later winter stages. With Spring blooming tree's, it is best to prune immediately after they have bloomed.
Where to Find Tree Trimming Services Near Me?
You can find local tree care specialists on Google search by searching "Tree Trimming Services Near Me", "Landscape Company near me", "Landscape Design company near me", and reading reviews on their business listings. Make sure and call around for general price estimates as the first place you call doesn't always offer the best solution for you.
Tree Trimming Company, & Tree Care Services in Halifax, NS
We offer a full range of landscaping services from Lawn care to tree trimming to the entire Halifax Metro area and HRM.
*Disclaimer – This is not an actual quote. Your Landscape design or other landscaping services could be different than the prices you see on this guide. Contact Halifax Landscaping Pros if you are in the Halifax area and need Landscaping services..
You May All Be Interested In the Following: